CLASS SCHEDULE
(beginning September 20)
Mondays: Yoga at The Muskie Center, Waterville, 9:00 – 10:00 am – $6/class
Mondays: Yoga & Meditation at the The Children's Discovery Museum, Waterville, 5:15 – 6:30pm – $10/class
Tuesdays: Yoga at Champions Fitness Club, Waterville, 10:00 – 11:00am – $10/class
Wednesdays: Yoga at The Muskie Center, Waterville, 9:00 – 10:00 am – $6/class
Wednesdays: Yoga & Meditation at the The Children's Discovery Museum, Waterville, 5:15 – 6:30pm – $10/class
Thursdays: Guided Meditation with John on Zoom, 9:00 – 9:30am – no charge
Thursdays: Yoga at Champions Fitness Club, Waterville, 10:00 – 11:00am – $10/class
Saturdays: Yoga & Meditation at The Children's Discovery Museum, Waterville. 9:30 – 10:45am – $10/class
NEW Saturdays: Yoga & Meditation at The Children's Discovery Museum, Waterville. 11:00am – 12:00pm – $10/class
---
Our classes are open to all levels; beginners are welcome. Let's grow a yoga & meditation practice together!
Namaste,
John + Kim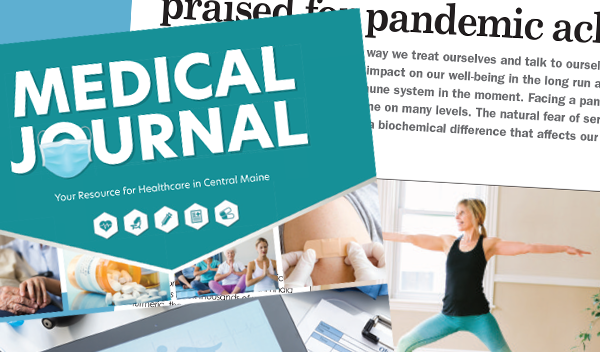 Kim Nashed Yoga in the News
The March 2021 Medical Quarterly of the Morning Sentinel includes an interview with Kim on how to combine yoga, meditation, and a healthy diet to support you through these pandemic times. Read more here.
Yoga, Meditation & Exploration! Namaste.